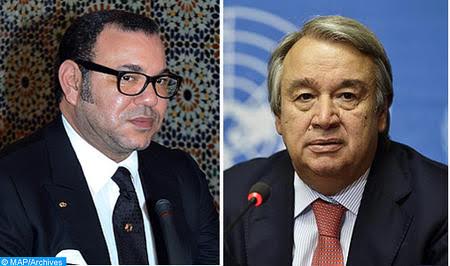 King Mohammed VI Urges UN to Take Necessary Measures on Guergarate Situation
King Mohammed VI has called upon the Secretary General of the United Nations, Antonio Guterres, to take urgent and necessary measures to put an end to an unacceptable situation seriously threatening the UN-brokered ceasefire and jeopardizing stability in the region of Guergarat, a border area at the extreme southwest of the Western Sahara.
During the phone call, the King drew the Secretary General's attention to the serious situation in the Guergarat border crossing to Mauritania, as a result of the repeated incursions by the armed elements of the Polisario and their provocative actions.
The actions are said to be premeditated to occur only one month before the return of Morocco to the African Union in order to create discord and attempt, although unsuccessfully, to derail the process, according to a communiqué from the royal cabinet.