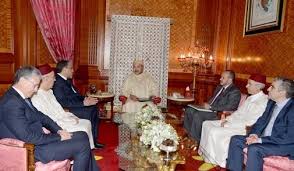 Moroccan King Mohammed VI received the results of consultations on abortion from concerned ministerial departments
King Mohammed VI examined Friday proposals on abortion he asked the departments of justice and Islamic Affairs and the National Council for Human Rights (CNDH) to prepare.
The proposals showed that an "overwhelming majority" of Moroccans want to legalize abortion only in certain cases, including preserving the health of the mother, birth defects of the fetus, incest or rape. Based on these findings, King Mohammed VI gave his instructions to include the proposals in the Penal Code and submit them to the procedure of adoption.
King Mohammed VI received Friday, May 15 at the Royal Palace of Casablanca, Mustapha Ramid, Minister of Justice and Liberties, Ahmed Toufiq, Minister of Endowments and Islamic Affairs and Driss El Yazami, president of the National Council for Human Rights (CNDH), said a statement from the Royal Cabinet.
During the royal audience, the two ministers and the president of the council submitted to the King the results of extensive consultations that the Sovereign had asked them to conduct on the issue of abortion, with all concerned parties, adds the same source.
These actors have unanimously welcomed the royal initiative and consultative approach ordered by the King to develop a wise and objective opinion while giving priority to the best interests of the family and citizens.
These various consultations showed that "the overwhelming majority" leans towards the criminalization of illegal abortion, except in cases of superior force, because of the suffering it inflects and its negative health, psychological and social impacts on the woman, family and the fetus and the entire society.
These cases are: when pregnancy is a danger to the life and health of the mother, in cases where the pregnancy is resulted from rape or incest, in cases of severe deformities and incurable diseases that could infect the fetus.
Based on this observation, King Mohammed VI gave instructions to the Minister of Justice and Freedoms and the Minister of Health to coordinate among themselves and that they associate medical specialists to translate the findings of these consultations into a draft of legal provisions in order to include them in the penal code and submit them to the procedure of adoption, taking into account both current developments in this area and the precepts of Islam.
The King also stressed the need for awareness, prevention, dissemination of scientific knowledge and ethics relating to this subject in order to immunize society against the causes of abortion, the statement said.
The audience was attended by the King's advisers, Fouad Ali El Himma and Abdellatif Mennouni and the Minister of Health El Hossein El Ouardi.