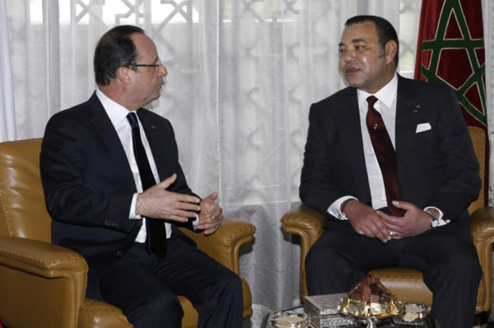 King Mohammed VI and French President emphasize the strong exceptional partnership between the two countries
French President Francois Hollande and the king of Morocco, Mohammed VI, met in Paris on Monday to symbolize the reconciliation of the two countries. They praised "a new dynamic of trustful and ambitious cooperation" between the two nations in a written statement.
France and Morocco officially ended a year of discord last month by re-establishing judicial cooperation. Those ties had been cut in February 2014 after French police attempted to arrest the visiting head of Moroccan intelligence in response to a very doubtful activist lawsuit accusing him of torture.
During these talks, the two Heads of State discussed all regional and international issues. They underlined the strong exceptional partnership between Morocco and France. They hailed the bilateral agreement concluded on January 31, which set the conditions for more effective judicial cooperation between the two countries, said a joint communiqué after the meeting.
France and Morocco vowed to fight terrorism together and to fully cooperate on security issues, putting an end to a year of diplomatic discord.
"The French president and HM King Mohammed VI also stressed the determination of France and Morocco to fight terrorism and fully cooperate in the field of security. In this spirit, an intense exchange of ministerial visits will prepare the next high level meeting between the two governments," it added.
"The two leaders hailed that the conditions are met for a new dynamic of confident and ambitious cooperation between France and Morocco in all fields," it concluded