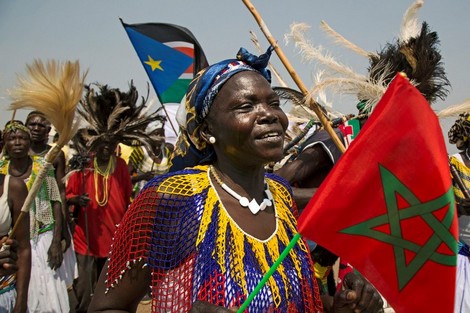 Moroccan king in a visit to South Sudan
Moroccan King Mohammed VI on Wednesday started his three-days visit in Juba, as the North African state moves to diversify its investments and diplomatic influence in Africa.
Rabat, which was on Tuesday readmitted to the African Union after more than three decades, is seeking to increase its economic interests on the continent, and to assist primarily the south-south cooperation among African nations.
The kingdom has, in recent East and West Africa tours by King Mohammed VI, signed agreements with host governments in manufacturing, banking, mining, insurance and construction.
The King of Morocco is expected to launch several humanitarian projects there.last week the kingdom has established a multi-specialty field hospital in Juba
During this visit, Mohammed VI may likely  hold  with President Salva Kiir a discussion on the implementation of Juba's peace agreement.
The two leaders are also expected to hold talks in bid to deepen bilateral relations.
King Mohammed VI is expected to address South Sudanese nationals on Thursday.