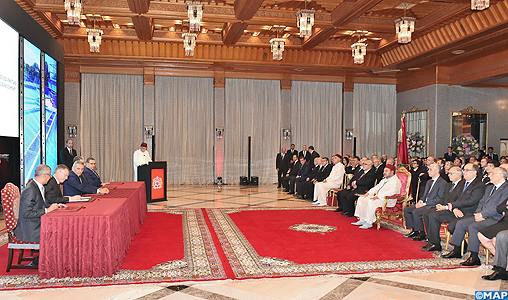 King Mohammed VI Chairs Ceremony to launch a joined venture of PSA Peugeot Citroen Plant in Morocco
King Mohammed VI chaired, on Friday in Rabat, the signing ceremony of an agreement between Morocco and French group PSA Peugeot Citroen providing for the setting up of an automobile factory in the integrated industrial platform "Atlantic Free Zone" in the region of Gharb Chrarda Bni Hssen.
The ceremony started with the screening of a film detailing Morocco's automobile manufacturing sector goals as identified in the industrial acceleration plan.
On the same occasion, Minister for Industry, Trade, Investment and Digital Economy Moulay Hafid Elalamy presented the project before the Sovereign, underscoring the beneficial impact of the new car manufacturing plant, the second to be established in Morocco.
After highlighting the positive results of the automobile industry as the first exporting sector in Morocco in 2014, Elalamy said that the new plant reflects the trust that Morocco enjoys among leading car manufacturing groups.
In this respect, he pointed to the numerous assets that make Morocco an attractive destination for such large-scale investments, notably institutional, political and macro-economic stability, openness and the free-trade agreements that Morocco signed in addition to the structural reforms that helped improve Morocco's business climate.
Elalamy also underscored the quality of Morocco's infrastructure and its industrial platforms and competitive edge in terms of logistics and connectedness through railways, highways, ports and airports.
Equally important is vocational training through the adoption of an innovative strategy that meets the needs of automobile industry, he said, noting that four institutions are delivering training in these regards in the cities of Tangier, Casablanca and Kenitra.
Speaking on the same occasion, Chairman of the Managing Board of PSA Peugeot Citroën Carlos Antunes Tavares said that the future factory will be completed for a total cost of 6 billion dirhams.
The choice to set up the new plant in Morocco was not accidental, he said, adding that Morocco is well-placed to host such a large-scale investment thanks to its political, social, economic, commercial and geographic assets.
The new plant will have a production capacity of 200,000 cars and 200,000 motorbikes, Antunes Tavares. This industrial complex will help the French group to increase exports to several markets in Africa and the Middle East, Antunes Tavares added.
The factory will be ready in 2019 and will generate 4500 direct jobs and 20,000 indirect.
The new plant will also include a research and development center with 1500 engineers and technicians.
On this occasion, King Mohammed VI chaired the signing of the agreement and seven annexes relating to the setting up of the new plant of PSA Peugeot Citroen in Morocco.