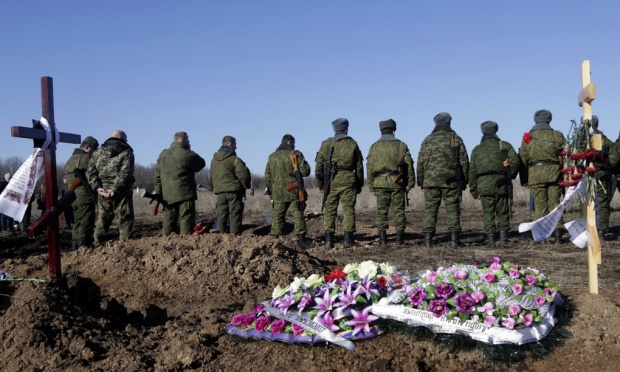 Ukraine ceasefire goes into effect but rebels ignore it on key battlefield
Ukraine's rebels disavowed a new truce in a key town on Sunday, hours after it took effect, in a blow to a fragile peace plan aimed at ending 10 months of conflict.
Guns fell abruptly silent at midnight across much of eastern Ukraine in line with the ceasefire agreement, reached after a week of marathon diplomacy led by France and Germany.
But pro-Russian rebels announced they would not observe the truce at Debaltseve, saying it did not apply to the town where most fighting has taken place in recent weeks and where Ukraine army forces have since been encircled.
"Of course we can open fire (on Debaltseve). It is our territory," Eduard Basurin, a senior rebel commander, told Reuters.
"The territory is internal: ours. And internal is internal. But along the line of confrontation there is no shooting."
Elsewhere, pro-Kiev officials told AFP that two civilians were killed when shelling hit the town of Popasna in Lugansk region just 20 minutes after the start of the ceasefire at midnight.
Ukraine's military said that across the conflict zone its forces had come under fire 10 times but that shooting had tailed off since 3:00am.
"In general the situation in east Ukraine appears to be heading towards stabilisation," military spokesman Andriy Lysenko told AFP.
It was unclear what impact the rebels' disavowal would have across the battle zone, where the emphasis was mostly on ensuring the truce would stick. Both sides said their forces had stopped shooting and blamed what firing there was on the enemy.
Kremlin spokesman Dmitry Peskov said the truce must be implemented "unconditionally" as agreed on Thursday, but made no mention of whether Moscow believes the ceasefire applies to Debaltseve. He declined to comment on Basurin's remarks.
Reuters journalists in nearby towns heard volleys of artillery from the direction of Debaltseve in the morning after a night that had been mostly quiet.
Ukrainian forces have for weeks been holding out in the town, which sits astride a railway junction in a pocket between the two main rebel strongholds.
Washington says Russia's regular military, armed with tanks and missile launchers, carried out an operation in the days before the truce to encircle Debaltseve.
Reuters journalists operating on the rebel side have seen armoured columns of troops without insignia arriving in the area in recent days.
Ukraine's President Petro Poroshenko, wearing the uniform of the armed forces supreme commander, said in a midnight televised address in the capital Kiev that he had ordered troops to stop firing in line with the truce. He said there was still alarm over the situation around Debaltseve.
The Ukrainian military said on Sunday morning that the ceasefire was being "generally observed". Its forces had been shelled 10 times since the truce took effect in "localised" incidents. Nine of its soldiers were killed on Saturday but none since the truce took effect, a spokesman said on Sunday morning.
The ceasefire, negotiated in four-power talks in Minsk on Thursday, foresees creation of a neutral "buffer zone" and withdrawal of heavy weapons responsible for many of the 5,000 deaths in a conflict that has caused the worst crisis in Russia-West relations since the Cold War a generation ago.
But trust is low on all sides and scepticism remains high after the collapse of a previous ceasefire, also agreed in the Belarussian capital.